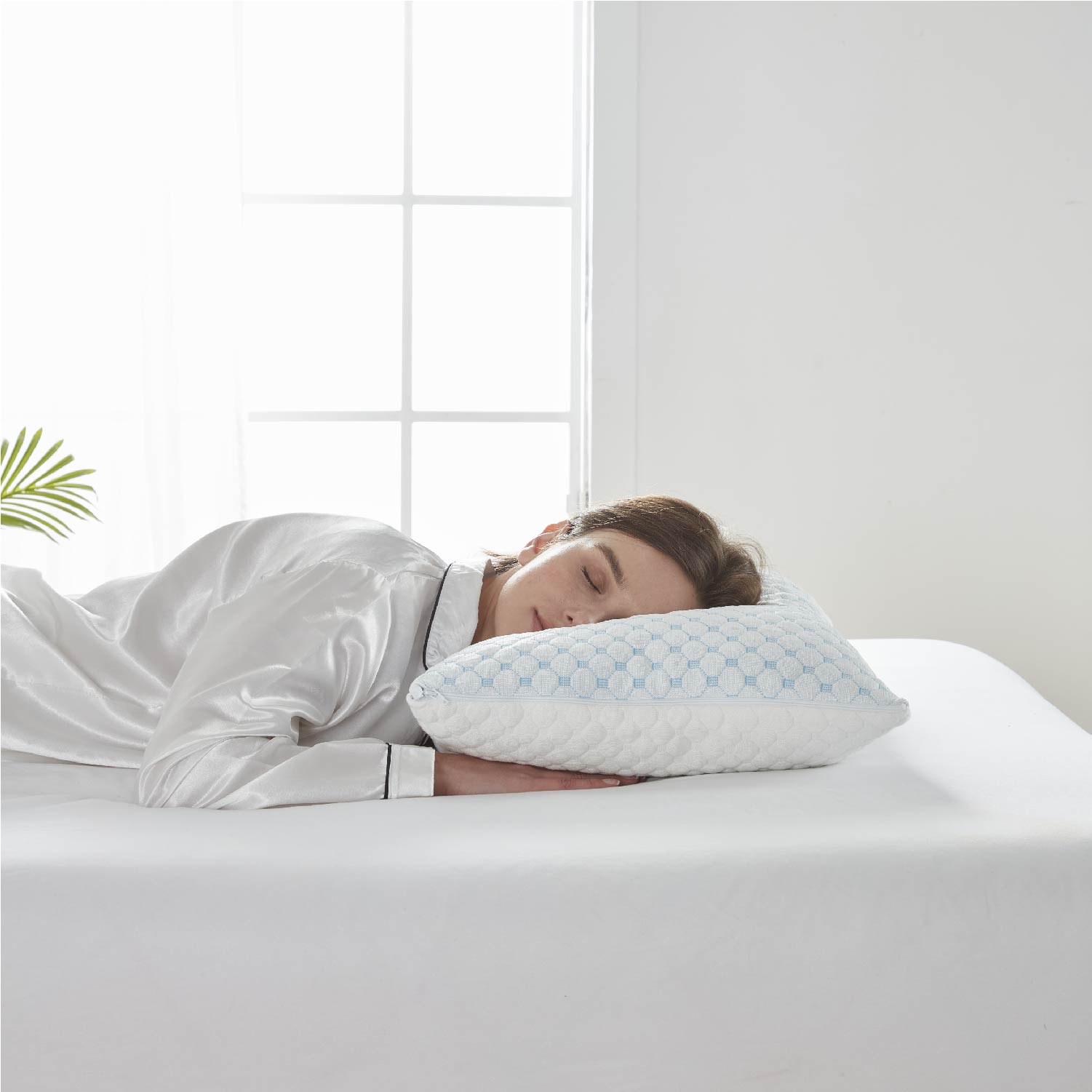 Discover the Best of Both Worlds: The Clara Clark Cooling Pillow with Dual-Sided Comfort
A good night's sleep is essential for optimal health and well-being, and having the right pillow can make a significant difference. Enter the Clara Clark Cooling Pillow, this innovative pillow offers the best of both worlds with its unique dual-sided design, combining cooling technology on one side and the soft, breathable luxury of bamboo on the other. The remarkable features and benefits of the Clara Clark Cooling Pillow, helping you achieve the perfect sleep environment.

One of the standout features of the Clara Clark Cooling Pillow is its cooling technology, designed to provide a refreshing and comfortable sleep experience. The cooling side utilizes advanced materials and innovative fabric technology to dissipate heat and regulate body temperature. It helps combat night sweats and hot flashes, ensuring you stay cool throughout the night. Say goodbye to flipping your pillow in search of the cooler side!

On the opposite side of the Clara Clark Cooling Pillow, you'll find a luxurious layer of bamboo fabric. Bamboo is known for its softness, breathability, and hypoallergenic properties. The bamboo side offers a gentle and plush feel, promoting airflow and keeping you cozy and comfortable. It's the perfect choice for those who prefer a softer and more soothing sleep surface. We even offer a fully bamboo pillow!

With the Clara Clark Cooling Pillow's, you have the power to control your sleep environment. Whether you're feeling warm or cool, simply flip the pillow to the side that matches your comfort needs. The cooling side effectively draws away heat, while the bamboo side promotes natural ventilation. This temperature regulation feature ensures you can customize your pillow to suit your preferences, allowing for a truly personalized sleep experience.

Beyond its dual-sided comfort, the Clara Clark Cooling Pillow provides excellent support for your neck and head. The pillow's fill is designed to maintain its shape and provide optimal support, helping to alleviate pressure points and reduce neck and shoulder pain. Whether you prefer a firm or medium support level, this pillow offers the perfect balance between comfort and support for a truly restorative sleep experience.

The Clara Clark Cooling Pillow is a remarkable sleep accessory that combines cooling technology with the luxurious softness of bamboo fabric. With its dual-sided design, you can enjoy the refreshing coolness on one side and the plush comfort of bamboo on the other. The pillow's temperature regulation, hypoallergenic and antimicrobial properties, and excellent support make it a standout choice for those seeking a truly restful and rejuvenating sleep. Invest in the Clara Clark Cooling Pillow and experience the best of both worlds for a truly blissful night's sleep.