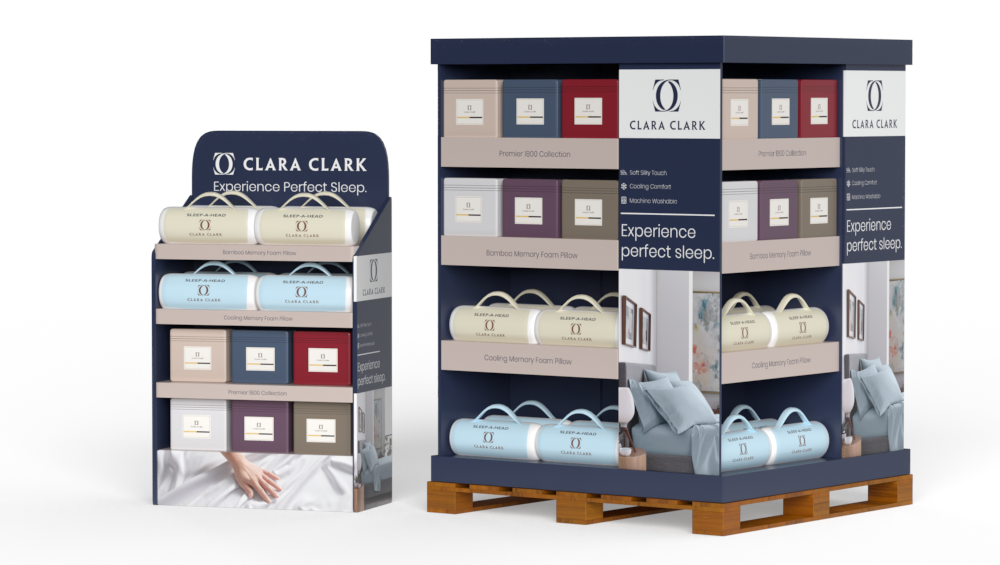 Boost Sales and Attract Customers with Clara Clark Retail Displays
Are you a grocery store, local pharmacy, or convenience store looking to enhance your bedding section and attract more customers? Look no further than Sanders Collection's new Clara Clark pallet and floor displays. With these eye-catching displays, you can showcase the popular Clara Clark brand and enjoy a host of benefits for your business. Read on to discover how partnering with us and utilizing Clara Clark retail displays can revolutionize your bedding section and drive sales.
Introducing Clara Clark
Clara Clark is a renowned bedding brand with millions of happy customers worldwide. Known for its exceptional quality, affordability, and style, Clara Clark products are the perfect addition to any retail store. By offering Clara Clark products, you can provide your customers with a trusted brand that ensures a comfortable and luxurious sleep experience.
Stand Out with Retail Displays
One of the best ways to capture attention and boost sales is through effective product displays. Our Clara Clark pallet and floor displays are designed to make a lasting impression on your customers. These displays are strategically crafted to showcase the diverse range of Clara Clark bedding products, from sheets and pillowcases to comforters and duvet covers.
Benefits for Prospective B2B Clients
By partnering with Sanders Collection and incorporating Clara Clark retail displays into your store, you can enjoy numerous benefits:
a. Increased Visibility: Clara Clark displays are visually appealing and draw customers' attention, increasing foot traffic to your bedding section. The attractive designs and prominent branding create an inviting atmosphere that encourages browsing and ultimately leads to more sales.
b. Enhanced Product Presentation: With Clara Clark displays, you can showcase the full range of products in an organized and visually pleasing manner. This allows customers to explore the options and find the perfect bedding solution that suits their needs. By presenting a well-curated display, you elevate the shopping experience and build customer trust in your store.
c. Boosted Sales and Profitability: The combination of Clara Clark's reputation for quality and the impactful retail displays creates a winning formula for increased sales. Customers are more likely to make impulse purchases when they see appealing displays that highlight the value and benefits of the products. By offering Clara Clark, you can generate higher revenue and improve profitability for your business.
d. Competitive Edge: In a competitive retail landscape, it's crucial to differentiate yourself from other stores. Clara Clark retail displays provide a unique selling point that sets you apart from the competition. By offering a well-known and respected brand in an eye-catching display, you position yourself as a destination for high-quality bedding products, attracting customers who value comfort and style.
Contact Us to Learn More
Ready to take your bedding section to the next level? Contact us today to learn more about our Clara Clark pallet and floor displays. Our dedicated team will provide you with all the information you need to make an informed decision and discuss how these displays can specifically benefit your business.
Partnering with Sanders Collection and incorporating Clara Clark products with our retail displays is a game-changer for grocery stores, local pharmacies, and convenience stores. The Clara Clark brand offers exceptional quality, affordability, and style that customers desire. By utilizing our visually appealing retail displays, you can enhance your product presentation, attract more customers, and ultimately boost your sales and profitability. Don't miss out on this opportunity to transform your bedding section. Contact us today and unlock the benefits of Clara Clark retail displays for your business.